Author: Harry Napier
Binance Cryptocurrency Exchange Review
During the first six months of operation, the Chinese exchange Binance entered the TOP 3 cryptocurrency exchanges in terms of daily trading volume. From the very start of the project, Binance management has relied on early, exclusive coin placement right after the ICO, which attracted a lot of advanced users. Another factor in the growth of popularity was low transaction fees and very high speed of the exchange engine.
In this review, we will try to cover everything you need to know about Binance: how the exchange works, trading pairs, commissions and limits, security issues and technical support. Consider the main advantages and disadvantages of the service, talk about its creators, its own cryptocurrency and even touch on Binance Canada projects.
You will learn how to connect the exchange to third-party services, such as 3Commas, and why you need it. We will also discuss how to create a Binance account, including Binance login ID and password and what is required for this.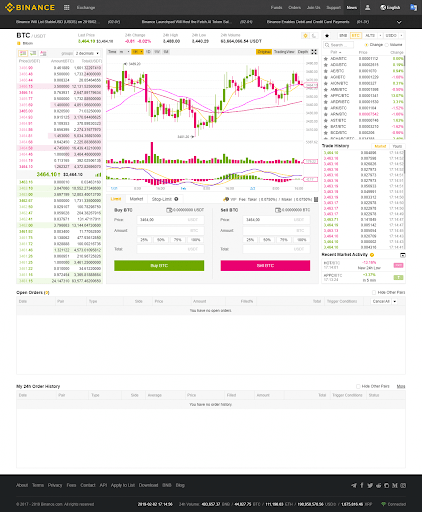 Binance – Scam or number 1 cryptocurrency exchange in the world?
Being a young company did not stop Binance from quickly taking on the top roles in its market segment. The Binance coin exchange is developing at a tremendous pace. Was
Binance hacked? Yes. However, not a single user suffered from its effects because Binance took appropriate measures, showing that it cares about its customers.
Attractive features of the Binance exchange
When you go to the official website of the Binance exchange, it immediately catches your eye that the exchange has two interfaces: basic and advanced. Both the basic and advanced interfaces of Binance are very carefully designed and have excellent usability.
So, we continue to talk about the advantages of the trading platform:
Binance has an international focus as evidenced by the support of several languages.
When registering, there is no need for verification, which undoubtedly attracts many users. True, the lack of verification limits the amount of the Binance withdrawal to two BTC per day, but such restrictions are unlikely to seem too stringent to most.
No less attractive are low commission fees – 0.1% for a transaction and 0% for a deposit.
Binance supports more than 80 currencies, has a mobile application, and the reputation of its founder is impeccable in all respects.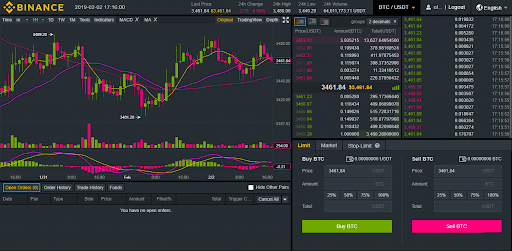 Registering on Binance and Making a Deposit
To create an account on Binance, click on the "Register" button at the top right corner. In the form that appears, enter email and password, which must contain from 6 to 20 characters, including numbers and letters – both uppercase and lowercase. Then, you need to agree to the terms of use of the service.
Next, you need to complete the captcha – move the slider to the right so that the puzzle lies in the place designated for it. By the way, this will be a required step during every attempt to enter the service.
After creating your login, a letter will come to your email with a link to complete the registration.
The service immediately offers to install 2-factor authentication. There are two options to choose from: SMS or Google Authentication. The procedure can be postponed to a later date, but for your own security reasons, this should be done as soon as possible.
Verification
There are 3 levels on the exchange. Non-verified newcomers are on the 1st level and can only withdraw no more than 2 Bitcoins from the website per day. After providing personal data and uploading identity documents to the service, users proceed to the 2nd level, where the limit is increased to 100 BTC. You will need to specify:
first and last name;
country of residence and gender;
passport data;
take a selfie with a passport.
To get to the 3rd level and remove remaining restrictions, you need to contact Binance support team.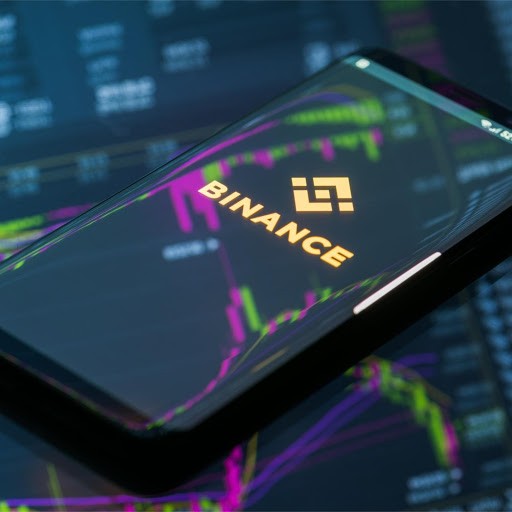 How to fund your account
One of the benefits of Binance is its commissions, which are not charged if you are replenishing your account. The amount transferred by you receives the status "order is frozen" until all confirmations on the blockchain are received. This inscription does not mean that something is not working or not credited.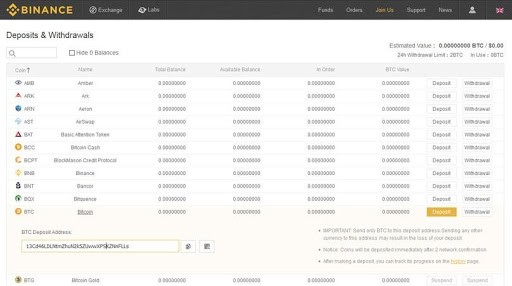 When you start trading, you need to indicate the desired purchase or sale price. Using limit orders, you can achieve more profitable results for yourself, and there is no need to constantly monitor the process. When it comes to withdrawing the accumulated profits, go to Funds and click on Withdrawal. Next, select the crypto you need, click on "Withdraw", enter the address of the electronic "wallet" to which you want to transfer money, and click "Withdraw". Any of these transactions are confirmed via e-mail.
Feedback & Support
As in any other field, you can always find both positive and negative reviews. I want to clarify one point: negative reviews can often be simply bought. This is done in order to undermine the reputation of a company. Competitors and, of course, opponents of cryptocurrency as a whole are aimed at such actions in the first place.
Reading real reviews, you can often find positive comments. However, even if there are negative reviews, then most often they are associated with inexperienced traders losing money being disappointed. Binance customer support also often responds to these negative comments and quite quickly answers all customers' questions. You can communicate with support both through the built-in chat, through Telegram and other various social platforms.
Conclusion
There is no doubt that it is Binance that is currently driving the cryptocurrency industry. Many products are launched, and there have been no problems for the entire existence of the platform. The client is valued and provided with a huge range of opportunities: margin trading, futures, affiliate program and more. Reviews about the Binance exchange are mostly positive, and trading here is a pleasure according to long-term customers.