Author: Harry Napier
Bitbuy – Crypto broker review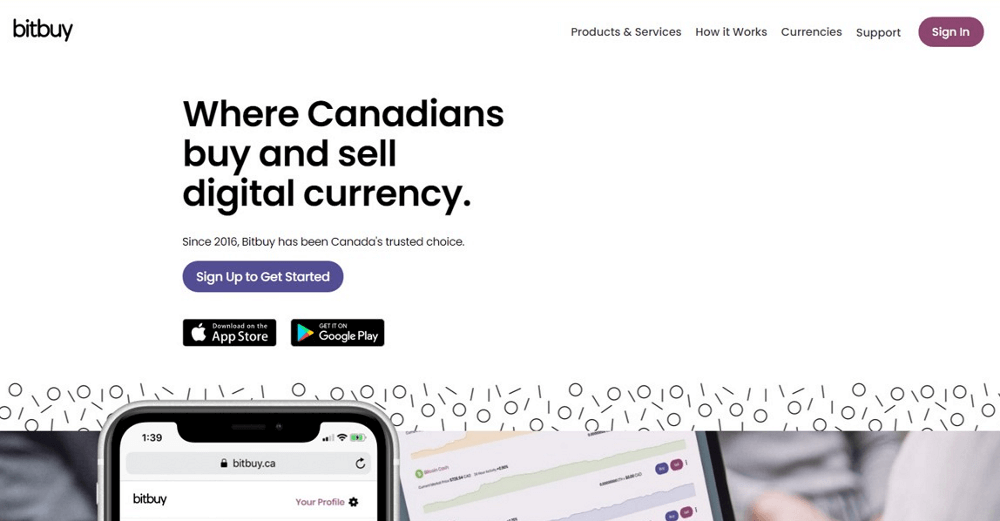 Bitbuy is one of the biggest crypto brokers in Canada. They are so Canada-oriented that if you tried to enter their website while not being a Canadian, you wouldn't be able to. For Canadians and those who use VPN, the platform works fine. It may be just nitpicking, although it's fun to think about it as of preserving the purely Canadian experience.
Bitbuy is a very fresh platform, only being around since 2016. Still, they claim to be Canada's most trusted choice, and it should count for something. If they uphold these promises, that is. However, you can only judge about that from your own experience or the reviews – the user reviews, better yet.
Before you start reading the section about Bitbuy's advantages and disadvantages, let's talk a bit more about the platform itself.
What is Bitbuy?
Coin assortment is obviously the number #1 aspect everyone should look at while choosing the broker to work with. Of course, there are no less important features and perks, but it's crucial to know exactly how variable the platform is. Bitbuy isn't too variable, however. Their selection includes:
Bitcoin – naturally, no crypto broker can leave without Bitcoin support
Bitcoin Cash – a fork of the original Bitcoin with lower price
Ethereum – the most populate alternative coin on the market
Ripple coin – also known as XRP
Stellar Lumens – aka XML
Litecoin
EOS
Each type of crypto can be bought for Canadian dollars, naturally. And of course, you can deposit your money using e-Transfer, which is a must-have on a Canadian platform. In general, Bitbuy is very well-suited for the Canadian users. But what else do they propose?
There are some general perks they offer, and these include:
Fee advantages – tight spreads, low fees
Experience upsides – instant verification, advanced trading interface, rest API
Trading benefits – deep liquidity pools, variety of order types
There are several more, but these are crucial for a good experience, and if Bitbuy implemented these upsides well, the lack of trading pairs won't be as detrimental to the experience.
Let's see if they did.
The rating
Bitbuy has a very modest rating on Trustpilot. Even considering that there aren't too many user reviews about that (Bitbuy not being too popular outside Canada), the rating of 3.3/5 gives you some idea about an average experience on Bitbuy. It is an average one, and several recurring flaws benefit to this result.

The disadvantages
Most flaws are results of Bitbuy ignoring their own promises (the list of perks above). As a result, their platform isn't as comfortable as it could be.
The commissions aren't terribly high, but they aren't low either. An average trading fee is about 1.5%, while withdrawing fees depend on the manner of withdrawing. It's tolerable, but the fact that they like about their fee policy doesn't make them any more trustworthy.
It is a very substantial downside. Other exchanges have over 50 coins, sometimes even more than 100 options. Bitbuy has 7. Therefore, it's a broker specifically targeted at Canadians who specifically want to trade in only 7 certain coins. They are the most popular on the market, that's true. However, the variety is still a very important factor here.
They have promised an instant verification, which isn't what happens. It's not unusual for the brokers to experience issues with account verifying, as well as money withdrawing. While they never said they have no withdraw issues, the account creating process if still uncomfortable, and they promised the contrary.
The advantages
The exchange still has good sides, and you can't deny them. Moreover, they make the experience you get on Bitbuy fairly good, if not for the flaws listed above.
Support works as intended. The waiting time isn't too long, and when you contact the agents – they try their best to make your experience a lot better and to ask all the questions you may have. In short, a good example of what service on crypto exchanges should be.
E-Transfer is one of the featured transfer means on the platform. Coincidentally, it's also the surest way to send your money to or from your bank account in time. Most of the time, you won't have any trouble using this service to withdraw money from here. Sometimes, issues may occur, but they are likely the platform's fault.
The user interface this company provides on its platform is fairly easy to use. Also, the trading section has a lot of advanced features and indexes, as promised. As a consequence, it's very comfortable to trade on this market. It's good, because if it also was difficult for the beginners, the platform wouldn't be worth it.
Conclusion
Bitbuy is a decent-enough exchange if you're Canadian. Granted, you'll probably not be able to use it if you aren't Canadian, so it's impossible to assess the platform from that point of view. Regardless, the exchange has a fair decent interface, a mediocre set of available coins and average user experience perks.
All in all, Bitbuy is a good platform, but there are certainly better options in the Canadian Internet. However, if you've found something worth your attention on Bitbuy, don't restrain yourself from using the exchange. It may not be the best in terms of content, but it's still a fairly honest company.
Anyways, thanks for reading this.