Author: Harry Napier
Coinberry – Crypto broker: reviews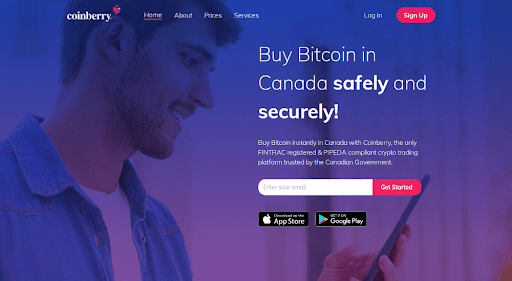 Coinberry is one of the exchanges covering the niche of strictly Canadian crypto trading. It means that all the rules and features are first of all tailored for the users from Canada, if not only for them. It's a good thing that such platforms exist, and it's even more pleasant if they aren't worse than popular American or European providers.
But if the platform is worse than the competitors abroad, there's no reason to use it. The user reviews can help you understand if the platform is good overall and if you should give it a go. Fortunately, there are plenty of reviews on Coinberry.
But before we delve into this mass of feedback, let's see what Coinberry has to offer.
What is Coinberry?
Every exchange tries to emphasize some features or qualities in order to stand out. In case of Coinberry, the company emphasizes its security, safety and transparency. It claims to be registered and monitored by the Canadian government. Unless you want to go through the FINTRAC documents to see if it's true, you have to believe it.
Regardless, it's not very much. Security as a whole isn't a luxury, and most brokers don't care about it too heartily anyway. Instead, a lot of them use 'security measures' as reasons to take away your hard-won profits or even close your account entirely. Whether Coinberry does the same or not – remains to be seen.
Fortunately, there are other interesting quirks in Coinberry's store. Among other things, the platform claims to value such things as:
Trustworthiness – they indicate national registration as a source of their trustworthiness;
Speed – you'll only need one minute to start trading here. The registration process must be pretty quick;
Clean withdrawal – you won't have to pay any fees to withdraw your money. You will have to pay for virtually anything else, however;
Service – the support is live, and you may ask questions at any time. If works as intended, a very good benefit;
Low pricing – 'some of the most competitive prices in Canada' is no small feat
Technically speaking, you can purchase cryptocurrencies on this platform. Namely, you can trade in 6 different types of currency:
Bitcoin
Ethereum
Litecoin
Ripple
Bitcoin Cash
Stellar
Keep in mind that you won't be able to deposit Ripple and Bitcoin Cash, and you won't be able to withdraw or deposit Stellar (which is probably something of an inner token).
That's pretty much it for the crucial technical characteristics. Now let's see how well the company implemented them.
The rating
On different review aggregators, Coinberry's rating is, on average, not very good. On trustpilot.com, for instance, the average user rating is set at 3/5, which translates into 'average experience'. As with lots of other platforms, Coinberry isn't given 3/5 by the majority of its users.
The rating is low because 42% of people rated it as 5/5, while 39% have given exactly the opposite feedback. Let's see why this broker upset people so much.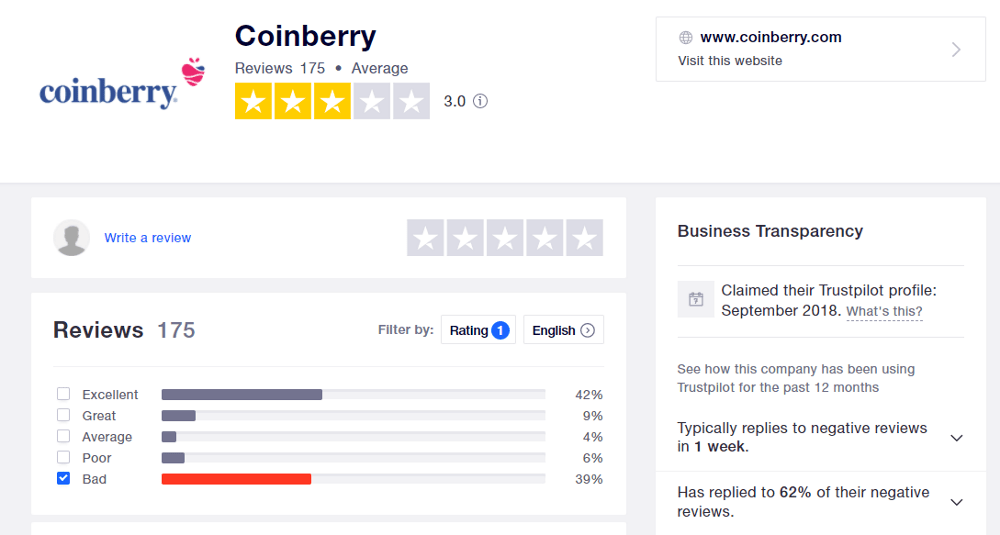 The advantages
There are some prominent benefits of working with Coinberry. A lot of the reviews are obscure, but you can see what people really like about the exchange.
The transactions are very fast. You can at least commend Coinberry for not backing up on their word of maintaining fast transactions, especially in the deposit department. All transfers and transactions are done very fast, but depositing your money here is simply comfortable. This, obviously, is intentional.
You can deposit Canadian dollars and almost instantly use them to buy any currency available. For transfers, you can use your E-Transfer account. It wouldn't be a Canadian broker if it wasn't available.
It's easy to use. You wouldn't call Coinberry easy to grasp – the website is positively littered with link and information garbage. The process of trading itself, however, is very simple and comfortable. Not only does it take no time, but you'll be happy to know that buying currency takes only a few clicks.
The service isn't bad. It's worth noting that support is really trying. If you have a financial issue or some other problem or question, address your agent. They'll be happy to help and most likely will help you in a matter on some hours, days – tops. It's not to say they are flawless. As usual, support sometimes just gives up on you if your case is drawn-out, complicated or plainly not beneficial for the company.
The disadvantages
You might've guessed – this platform is flawed. Some of these flaws are nasty and far from user-friendly. A lot of them may be due to fraud. Realistically, it probably has something to do with the bureaucratic issues, as always.
The verification process can take a long time. Despite the assurances, account registration can take a long time, mainly because of the verification process. If you have even a tiny problem with your documents, your verification period can be artificially elongated.
You'll have to contact the agent to sort this thing out. Good news is, the support is a lot more eager to let you in than to let you out when you've accumulated some money. And that's actually a subject of the following complaint.
It's incredibly easy to get in trouble. Most detained users don't even know what they did. The majority of negative reviews are from people who either were blocked or whose withdrawing ability has been taken away. To avoid such incidents, you'll have to very carefully read the rules to give no pretext for account block.
Even then, if a lot of people get banned for no apparent reasons – the rules are obviously not user-friendly.
In conclusion
Coinberry would be a great crypto exchange if not for the flaw that seems to haunt every potentially good broker – Draconian security and, as a consequence, long trials with service.
Try it if you like, the support seems friendly and tries to answer even the most uncomfortable questions. Still, you'll have to make sure your operations are completely transparent.