Author: Harry Napier
Interactive Brokers Forex broker review: Are they that bad?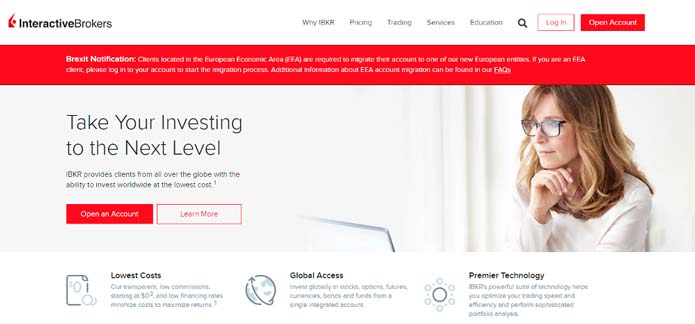 Interactive Brokers (IBKR) is an old-school online broker with an unclean reputation. They are pretty old-fashioned and they truly have some objective problems, but it's unlikely that all complaints directed at them are justified.
At the same time, they have a fairly decent collection of goods to trade and tools to help you out along the way. It's not uncommon for such thorough brokers to be fraudulent or ineffective (both ultimately result in the loss of money on your side).
So, let's see what kind of broker IBKR really is, and if they are worth checking out or not.
What is IBKR?
IBKR is a very old organization, and their online chapter is one of the older existing brokerage providers on the Internet. They are simultaneously amongst the most well-known.
Unfortunately, it's much easier for the old and successful brokers to hide information about themselves, which doesn't make the current goal of understanding them less complicated.
On an objective note, let's discuss what markets they got covered here. In fact, there are a lot of products, including:
Shares
Options
Forex
Futures
Metals
Bonds
Various funds (mutual, exchange-traded, hedge)
Each category represents a significant number of markets, to whom this broker is currently connected.
And the way to actively connect to these markets is very interesting.
APIs and Trading Platforms
There are a lot of trading interfaces on IBKR. You can find the whole list on the website to know all the nuances, but let's focus right now on the approach to trading they got here.
IBKR don't have any classic trading platforms, like MT4, MT5, cTrader and so on. These are ready-made trading interfaces that can be used to connect you to the markets featured by the broker.
But on IBKR, you can pick one of the three user interfaces, namely:
Client Portal – a mostly web platform that has all the necessities an average trader would need
FIX – a platform with more advanced solutions for professional traders
Trader Workstation – a highly customizable interface with solutions that help you create your own applications and tools and implement them right there
Furthermore, you can connect to the 'Investors' Marketplace', which is, strictly speaking, a collection of solutions and things you would like to implement into your own API.
In essence, IBKR allows you to create your own trading interface to suit your own trading style and needs. You can set up an application that would show you the recent market news, parallel market trends or any other piece of information IBKR has in free access.
Pricing
The claimed pricing is, in fact, very modest. There are 3 types of pricing: the progressive, fixed or 'free'. These apply to various markets and assets for all sorts of reasons. If you decide to trade here, you'll have to keep different tariffs in mind. You can summon the lists that indicate which tariff goes to which asset at all times.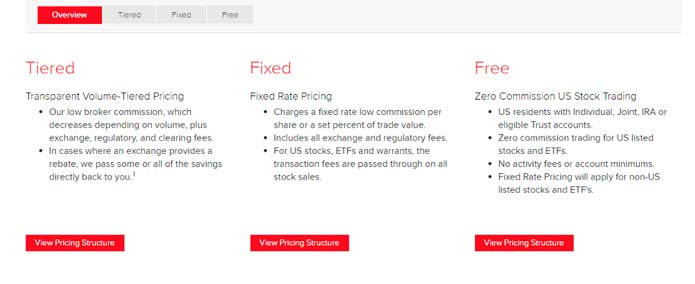 However, it's very cumbersome and it's not very clear why this system had to be implemented in the first place. It may be a legislative issue, but it never really stopped other brokers.
Regardless, the commissions are fairly low. While it's always advised to keep an eye on them, you won't lose a lot of money to them alone – not unless there is some sort of interference.
Criticism around Interactive Brokers
Whenever a broker has an outstandingly disputed reputation, it's clear that you shouldn't entrust your money to them. However, the situation around Interactive Brokers is very interesting and uncertain.
The usual complaints directed at brokers with similar reputations always point out two things:
The broker steals your money
The broker has no proper customer support
In IBKR's case, it's not very certain how often they have such issues. That they have these issues is certain, the regularity is what's in question.
There have been legitimate cases of them not returning client money. And yes, they did provide cumbersome, unhelpful support that you have to wait a long while for.
At the same time, a lot of the organizations seem to capitalize on this irregularity and leave reviews that tell how badly their authors have been treated and how much the [organization name] has helped them in returning the money.
IBKR themselves comments how these reviews are made by the competitors and are not genuine, therefore. This leads to some very interesting replies from the users who truly suffered from broker's incompetence/indecency.
The bottom line is: why it's true that you're in danger of losing some or all of your money to Interactive Brokers, these incidents don't happen as often as they claim. Exactly how volatile IBKR really is remains unknown. It's the same problem of failing to get the true data under the heap of panicking and misinformation.
If you decide to trade with this broker, you need to be cautious: don't deposit a lot of money at the same time and don't try the risky strategies without need. The money loss is a true danger, but they aren't as bad as people claim. There is some streak of transparency, and it may very well be that they are simply incompetent.
In conclusion
There are some very good features on IBKR – especially for the advanced and knowledgeable traders. However, they still are a risky place, and people genuinely waste their money and mental health with them.
In short, unless you have a good reason to start working with them, it's better to avoid IBKR altogether.