Author: Harry Napier
Lexatrade Forex Broker: Account Types Review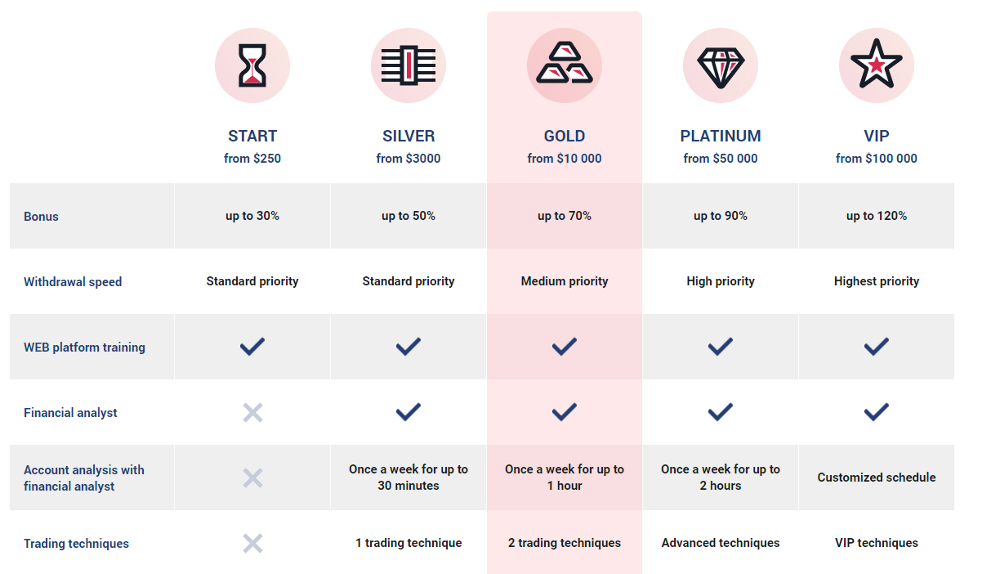 Despite all the critique the owners of Lexatrade receive, they did succeed at creating a platform with a very distinguished advancement curve. It's a decent trading place for beginners, regulars and advanced traders alike. Let's just ignore that the stuff Lexa offers on different stages is very subpar compared to the other exchanges and brokers.
If you were to start trading on Lexa, you'd be given several options regarding the means of trading. As you may have heard, there are different packages of content you can get on Lexa, and they are differentiated also by the amount of money the user will be obliged to deposit and play with on Lexatrade.
So, it's really a question of what type of account you want, had you already decided to visit the platform and have a go with its content.
What are these 'account types'?
So, to start trading on Lexa, you have to pick one of the account types they have to offer. It's technically free to sign up for each of them, but you will still need different quantities of money to use different types. Let's call them levels from now on, because that's pretty much what they are.
According to different levels, such as:
'Start' level – the basic package with barely any trading content meant for the new users, pretty much
'Silver' level – the same package with several more features
'Gold' level – the standard package with everything a regular trader would need
'Platinum' level – the package for advanced traders
'VIP' level – if you want to get special treatment from the platform owners
Each of them increasingly gives you more features, more of special treatment, and also more opportunities to earn profits. And they also cost more, basically. You can 'upgrade' your account to a new level if you have enough money on balance.
And it seems that Lexa is aimed at the more successful and knowledgeable users, because the standard (judging by the content package that goes with it) 'Gold' level needs $10000 worth of deposits to start trading.
So, which one do you choose?
Start ($250+) and Silver ($1000+)
Start and Silver need an initial deposit of $250 and $1000 respectively. It's basically an amount of money a new trader would have vs. an amount the same trader would possess after a few nice wins on the exchange.
So, in theory, you can come to Lexa with a small investment and earn enough to promote yourself to Silver then proceed to Gold and so on and so forth. Realistically, after climbing to the second level, you'll have to invest even more of your own money to get to Gold, because getting to the next threshold of $10000 would be difficult.
That's what these two levels would give you:
An ability to trade crypto and Forex with Start
An ability to also trade commodities with Silver
Beginner-tier webinars
Standard withdrawing speed (several day on average)
'Standard' spreads (they are pretty low anyway)
A learning section with several courses for beginners with relevant topics
So, if you are a beginner, you are pretty much expected to try these levels before going up. They are fine as educational material, but given that most users will be stuck on these two, it still lacks depth that other levels have.
But even if you aren't a beginner, you're advised to first try one of these levels to figure out if you can trust Lexa with more money – see if it suits your trading style and your needs.

Gold ($10000+)
The content sheet on Gold is equivalent to what most other exchanges would give you. There, however, you won't need to have such high deposits for it. So, you're basically paying for the good reputation that Lexa has.
For your money, you'll get (in addition to what Silver would give you):
Limited list of stock to trade
Reduced spreads (see how they change on the dedicated page)
Asset portfolios
MT4 Web version
An introductory lesson to their advanced 'training academy'
One conversation with the professional analyst
Average-tier webinars
So, it's still a bit worse than usual in some ways and a bit better in others. This is clearly supposed to be the 'middle level' for those who know the rules and can trade. However, you still can't very well trade stock here, which is the shame. If you are a trade stock investor, you'll need to upgrade to Platinum.
Platinum ($50000+) and VIP ($100000+)
These are advanced levels, obviously.
'Advanced' doesn't necessarily mean 'more complex', though. It does imply that you'll be dealing with more features, which can be complex, but not in this instance. In this case, advanced means rather:
Gradually even lower spreads
More paid webinars with advanced topics
Unlimited list of stocks
High to highest withdrawing speed
Regular work with an analyst
Free MT4 usage
Half to full volume of a training course
The practical difference between these two is that you get the special treatment as a VIP (obviously), which results in getting your private VIP analyst, acquiring a title of an investor and an ability to directly participate in Lexa's events and interact with them.
The point is, these two are only really worth considering if you're a long-term partner with Lexa already – it especially applies to the VIP. So, don't bother considering these just yet, there's nothing for you if you aren't good pals with Lexatrade.
Summary
If you want a more or less normal trading experience on Lexatrade, try Gold. However, even this 'normal' level is inferior to the standard content you get on other exchanges. And there, you don't have to deposit $5000 just to trade.
The minimal deposit practice is well-accepted, but most exchanges either choose to demand $5, $10 or maybe $100 of an initial deposit. Nevertheless, such difference in deposits creates a more or less healthy learning ladder for new users, which isn't half-bad.