Author: Harry Napier
Mercatox exchange review: can this company be trusted?
When there are so many peer-to-peer cryptocurrency exchanges, the main criteria when choosing a service becomes safety and reliability. Nobody wants to be deceived or get his funds hacked. To find out whether this exchange is trustworthy, we have prepared our Mercatox review.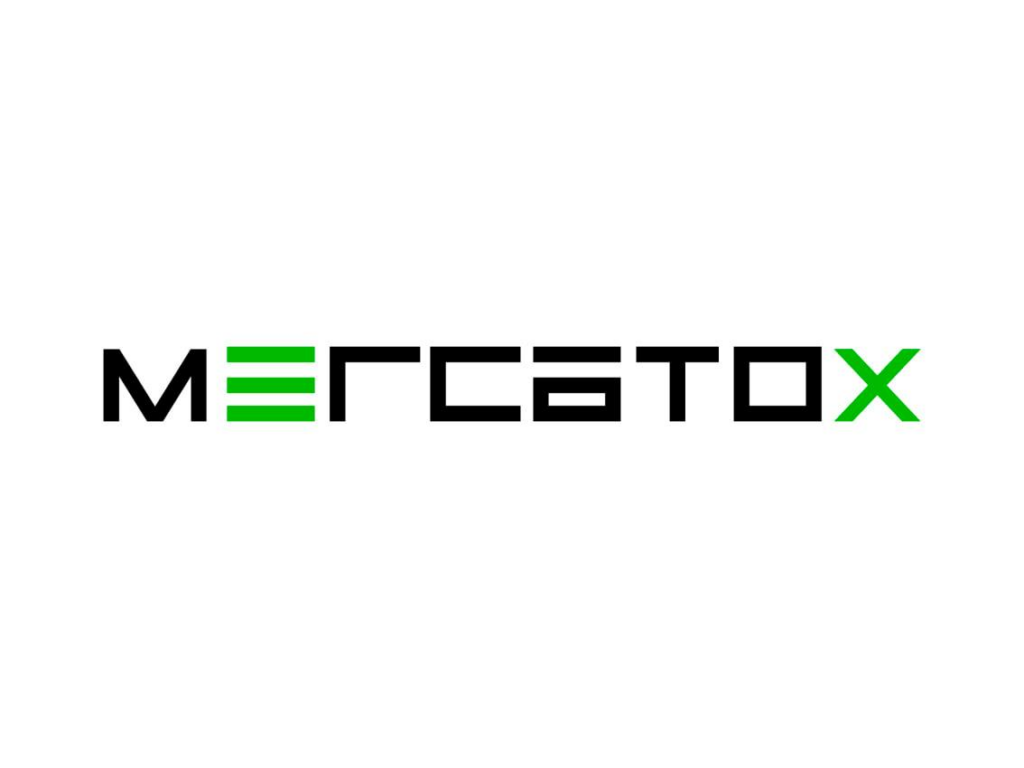 About Mercatox
The company was founded in 2016 and is a relatively fresh name in the industry. This is a peer-to-peer cryptocurrency exchange. This means that users change currencies among each other and, technically, Mercatox acts like a mediator. It is already well-known in the field for its fee system and comfortable platform, so it is not a surprise that it has a lot to offer.
What can you trade with Mercatox?
The exchange supports near 100 cryptocurrencies of all kinds. These include:
Bitcoin
Ethereum
Litecoin
Verge
VeChain
Ripple
NEO and many others.
There are 329 trading pairs that include both major and minor currencies. Therefore, if you need to find some place where you can change an unpopular cryptocurrency, this might be the place. To see the whole list of supported coins, it is recommended that you search for the exchange's website.
Fees at Mercatox
The exchange is quite popular because of its fee system. First of all, there is a fixed fee of 0.25% that is set for buyers and sellers. Although you do not have to pay anything for deposits, an additional sum is charged for withdrawals. This includes:
0.0001 – 0.005 for BTC
0.002 for ETH
1.5 for Payeer in USD
0.95 for Perfect Money in USD
1 for Qiwi in RUB and others.
To view the current fees for each payment method, it is recommended that you search them up on the Mercatox website. That is the only place where you will find up-to-date information about the service.
Which countries does Mercatox support?
Basically, Mercatox provides its services to countries from all around the world. It is not regulated by any authorities, so it can work as it wishes.
The list of countries includes the US, the UK, Switzerland, Portugal, Ireland, Croatia, Belgium, Australia, and many others. There is no sense in giving a full list of countries because this would include all the names around the globe.
Is Mercatox regulated?
No, Mercatox is not regulated by any authorities. Although it is based in the United Kingdom, the FCA does not regulate this service. It does not comply with trading standards and does not follow any policies. This makes the platform somewhat risky and lowers the chance that insurance companies will help you if something goes wrong.
Customer support at Mercatox
The customer support at Mercatox does not have a lot of good reviews from traders. People write that it takes a lot of time for the service to answer tickets and there is no live chat. The only way to contact an agent is via email.
There also is a knowledgebase (FAQ) which includes several articles with the most frequent issues encountered by traders. It is very basic, so if you have got a complex issue, it is not likely that you will find an answer there.
Customer reviews about Mercatox
According to a popular rating website Trustpilot, Mercatox has got 21% "Excellent" reviews and 52% "Bad" reviews. The difference is quite big and it shows that traders are extremely unsatisfied with the service. Let us have a look at what they write.
A user with the nickname "Jan" writes that he registered with the service because of the good rates. When he exchanged the cryptocurrencies he got, everything went fine. However, when the user decided to make a withdrawal, it appeared to be unavailable. More than 1.5 months have passed and the company has not fixed this issue.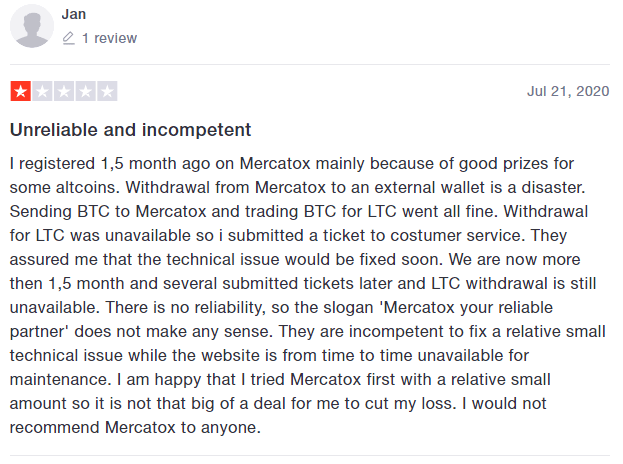 Another user, "Ciprian", appeared to like the platform very much. He writes that he has been working with Mercatox for over 2 years and has encountered no issues.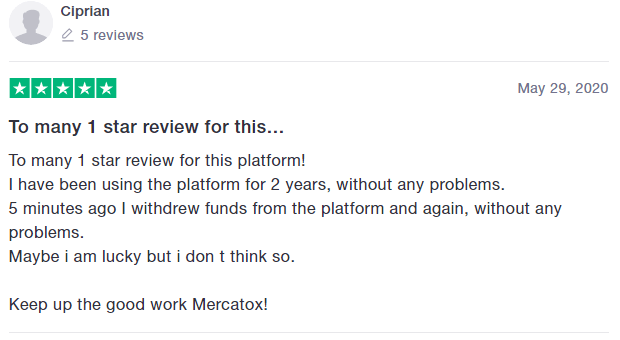 Finally, "Sami music" writes that the company can disable deposits and withdrawals for any coin whenever it wanted without notifying its clients. When he contacted the support service for help, he has not received any answers. Although the website was good enough when it worked, now the trader considers it to be useless.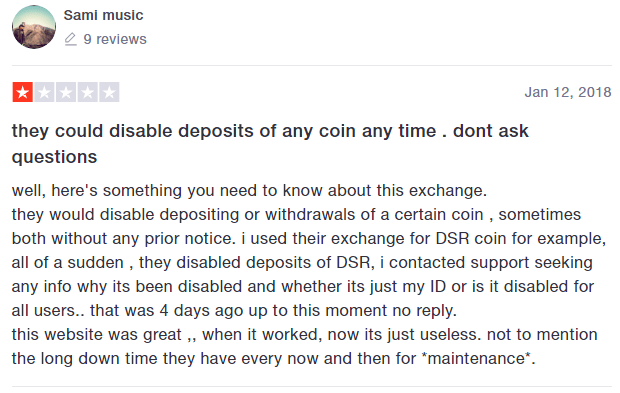 As you can see, the majority of customer opinions about this service is negative. People do not like that the service has slow withdrawals, often disables separate coins without warning its users, and the unavailability of the support service. We consider these issues to be quite serious and recommend that you look for an exchange with better ratings.
Final thoughts
Mercatox is an unregulated peer-to-peer exchange service that has got a lot of negative reviews on the web. Although it has worked well previously, there have been to many problems for the recent period. These included issues with withdrawals, customer support, and others. We hope that the service will fix all these because it had convenient trading conditions and very low fees.
What about your experience with this exchange? Let us know in the comments below!