Author: Harry Napier
Paxful platform review: can you trust it?
Paxful is one of the biggest online marketplaces with more than 2 million users worldwide. The service allows people to buy and sell Bitcoins without actually meeting each other. It has a huge number of payment methods and a user-friendly interface. But what about its trustability? Today we have prepared a Paxful broker review to find that out.

About Paxful
Paxful is a company that was founded in 2015. Currently, it has offices all around the world including its headquarters in the United States. There also are offices in Estonia, Hong Kong, Philippines, and other countries. There are more than 100 employees who constantly work on the development of the service.
The service aims to become the "Uber" of the cryptocurrency community. People can buy and sell Bitcoin at various prices, just like trading items on eBay. The main advantage of Paxful is that it has minimum geographic and can show off by having over 300 payment methods.
Is Paxful a legit choice?
Although Paxful is not regulated by any authorities because it is only a marketplace, it still remains legit. The reason is that it really fulfills everything it promises to do and provides high-quality service.
Of course, just like in any other marketplace, there are users who will try to cheat you. These frauds can be found everywhere and this does not represent the trustworthiness of the platform. Just be aware that you must be cautious if a user acts weird or asks you to send the funds in an unusual way.
Payment methods at Paxful
First of all, it is important to note that Paxful only works with Bitcoin. The money is sent directly to the users' wallets or accounts and that is why there is no sense for the website to accept fiat currencies.
If we speak of the payment methods, these include:
PayPal
Wire transfers
Bank cards
Western Union and 300+ other options
Please note that the transaction commission varies from the method you use. Usually, bank transfers or payments in cash cost less than PayPal or credit cards.
Fees at Paxful
Another advantage of the website is that it does not charge any fees directly from buyers. However, you will have to pay a specific sum depending on the payment method listed by the seller.
However, sellers have to pay a 1% commission to Paxful. Of course, the service cannot be completely free. The company needs to cover expenses and salaries. Therefore, this is a standard requirement and it does not eat into the users' wallets.
Finally, it is important to remember about the BTC network fees that are not controlled by the service. The sender covers this sum as a payment for using the transaction. Paxful does not receive anything from it. The only people who profit from it are BTC miners.
Limitations at Paxful
There are some limits that depend on the verification level completed by the user. Overall, 4 levels are available and the first one does not have that many requirements. Here is a list of them:
Email + mobile phone = $1500
+ ID = $10,000
+ address = $10,000
+ enhanced due diligence = no limitations
Using Paxful is easy no matter what sums you work with. It is even better for people who work with sums up to $1500 because they do not have to provide any personal information except their email and phone number.
Customer support at Paxful
Paxful has a detailed FAQ section which includes detailed information on almost every question any of the users might have. This helps to solve most issues without getting in touch with a support agent.
On the other hand, if there is an issue that requires live support, contacting a support agent is very easy. You can use the chatbox on the website. If you do not receive an immediate answer, you can leave the website and a notification with an answer will arrive to your email a bit later.
Paxful BTC wallet
The service also provides its own Bitcoin wallet which is used for transactions on the platform. Whenever you buy cryptocurrency, it all goes to this wallet and can be sent to any place you need afterward. The wallet is available for in a web version, Android, and iOS.
We recommend that you do not keep your BTC in this wallet for long terms because it is not safe. If the service gets hacked, there is a high risk that your funds will be gone too.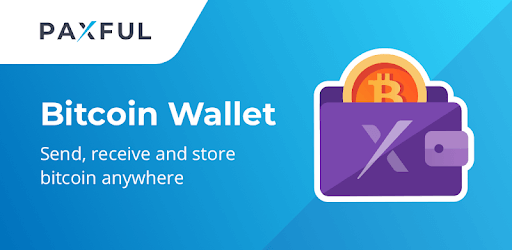 Paxful customer reviews
There are many positive and negative opinions about Paxful. Mostly, users talk about their accounts being frozen for no reason after uploading the required verification documents. This is a bit weird, but the company replies to almost every similar review. According to some reviews, Paxful resolves the issues immediately after being contacted and that is a good sign.
Here is an example of one of the reviews left by Adebayo Adeleke who states that Paxful is a safe place to quickly exchange cryptocurrency.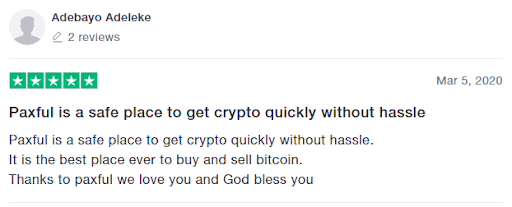 He mentions that it is the best platform for purchasing or selling Bitcoin and thanks the service.
Here is an example of what we have already talked about. The user sends a review mentioning that his account got blocked after sending the required documents.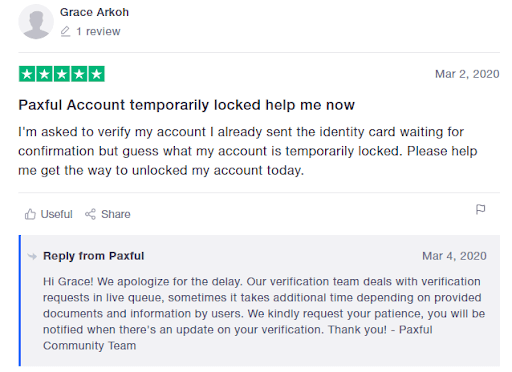 As we can see, the company answered him in two days apologizing for the situation and explaining the reason for blocking his account. According to several newer reviews, other users have stated that after being contacted by the support their accounts were unblocked. It is quite possible that this specific user simply did not update his comment.
Conclusion
Paxful is a great Bitcoin marketplace where buyers and sellers can independently do what they need. However, because it is a marketplace, it is not regulated and there are risks of dealing with frauds. The service does everything possible to kick out such scammers, but some of them still manage to reach the website.
The terms are very competitive and even profitable. The service has a friendly design and it is very easy to navigate around the website. Finally, the BTC wallet given by Paxful simplifies the trading process for many users. What do you think of this platform?