Author: Harry Napier
Poloniex exchange review: can it be trusted?
Poloniex is an experienced cryptocurrency exchange that is one of the first names in the industry. Although it does not seem to be that attractive to newcomers, the company still keep the leading positions and professional know why. Is it really that trustworthy as they say? Read our Poloniex review to find out.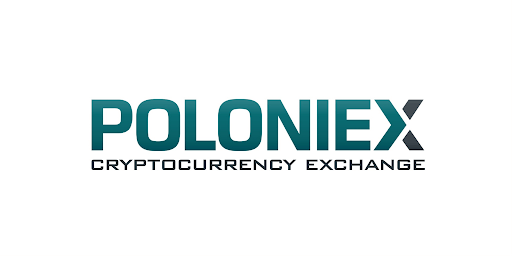 About Poloniex
The company has been founded in 2014 and is based in Wilmington, the United States. It is quite rare to find exchanges from the US, but this is a really good sign.
Recently, the company has been bought by Circle, a company that is backed by Goldman-Sachs. This was good because it shows that Poloniex had decent investors who are interested in developing the service. However, later on, the company "moved" to Polo Digital Assets. In 2019, it sent traders a notification about shutting down access to US residents.
Poloniex is well known for having the highest volumes with altcoins like LTC. You might think that the company has many trading pairs and works with fiat, but this is not the case. The exchange only works in the crypto to crypto format.
What can you trade with Poloniex?
There are around 100 trading pairs that only include cryptocurrencies. This might not be a problem, but you can only make deposits in crypto. Fiat currency is not used at all and that is not very good for some users.
As a solution, you can use the USDT token. It represents the United States Dollar, so 1 USDT will always cost the same price as 1 USD. The price can be a bit higher or a bit lower, but that doesn't really matter.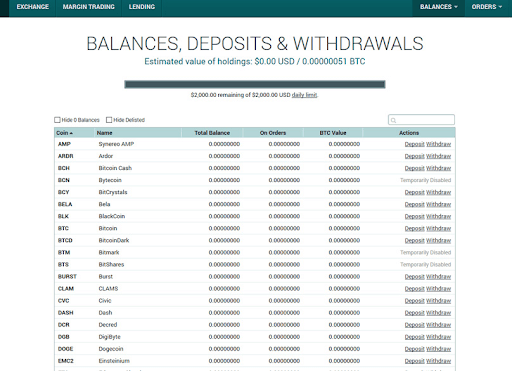 Out of all these cryptocurrencies, you can find:
BCH
BCY
BTM
CVC
DASH
DCR and others.
The number of coins is huge and it is very competitive.
Fees at Poloniex
At Poloniex, both makers and takers pay the same fees. Everyone is charged 0.09% from the sum, so, basically, it is a flat fee. The sum can be decreased if your trading volume is high enough. For instance, market makers can even profit by 0.020%. Takers can pay 0.025%. These numbers are only available if your trading volume is high enough and you have a special status on the service.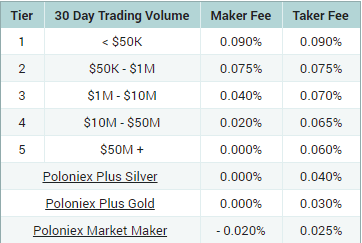 You are not charged anything for deposits, only the payment systems might charge a specific sum. Withdrawal fees are a bit more complex because they depend on the cryptocurrency you want to use. For example, if you withdraw Bitcoin, it will cost 0.0005 BTC. Detailed information is available on the exchange's official website.
Payment methods at Poloniex
As we have previously stated, Poloniex only accepts cryptocurrencies. So, you have only two ways to top-up your account:
On-chain
Buy BTC with fiat through Simplex
These two options are offered by the company, so they must work.
Is Poloniex safe?
Although a lot of websites state that Poloniex is legit and trustworthy, you may not trust the first source you see. We have visited several trading forums to find out what traders think about the platform. What we found was quite disappointing.
First of all, users complain that the support is very poor here. It is not seldom for tickets to remain without an answer or to be closed without any reason. For instance, a user with a nickname "east-wrest" showed a screenshot of his ticket being answered in more than 90 days! The picture below is the first thing we thought about when we read it. This is not the only issue, there are many tickets being answered in 2 months or more.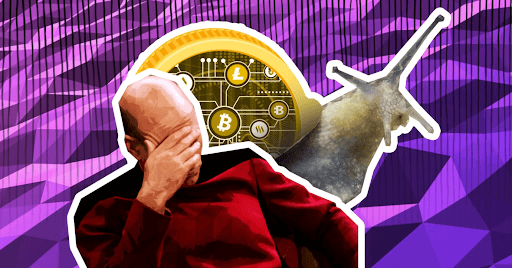 Second, there are problems with withdrawing funds. Some clients say that their withdrawals are being significantly delayed or even frozen. This issue has been experienced by a minority of users, but it is still a red flag.
Finally, aware customers often check the Terms of Use. There are some weird statements like that any commentary or statement about the company on social media or any other place is the property of the company. Yes, you are right, even this review can be considered as the company's "property" according to its terms. This is another red flag we would like you to pay attention to.
User opinions on Poloniex
The majority of customer reviews on Poloniex is negative. It is a surprise how things change the deeper we look into the company.
Here is an example of what James Doble says. He states that the company has fabricated a situation to profit from user's losses.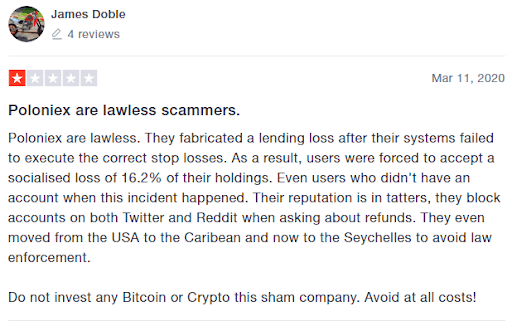 Regarding the stop losses, it is true that there is a possibility that they will not work. This is stated in the Terms of Use. However, we did not find any proof about the company moved to the Seychelles, but it is known that US residents can no longer use the service.
Here is another opinion by Andrew Prater. He states that his account has been blocked with 0.19 BTC in it and the support kept ignoring his requests. Andrew tried verifying his account but there were no results.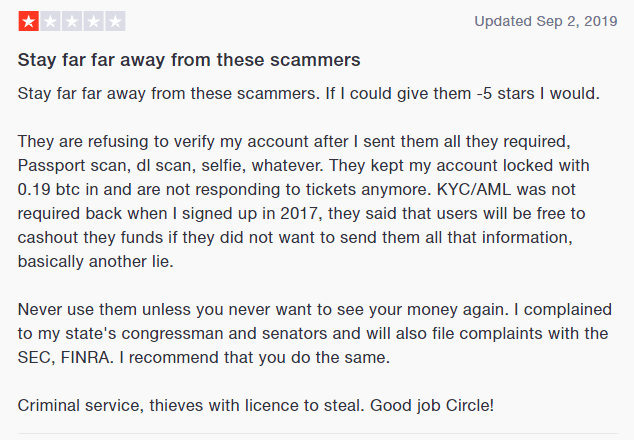 To sum up
Although Poloniex might seem to be trustworthy in the beginning, the deeper you look into the matter, the worse it becomes. The Terms of Use are ridiculous and this is an example of why you should always read them before actually accepting them.
The support does not work like it is supposed to and there are issues with withdrawals. Users complain that they often do not receive any answers from the company and the verification process takes a lot of time. So, we do not recommend working with Poloniex. There are many risks and your investment is not safe here.
What about your experience with Poloniex?