Author: Harry Napier
Questrade FX Forex broker review: Features and Issues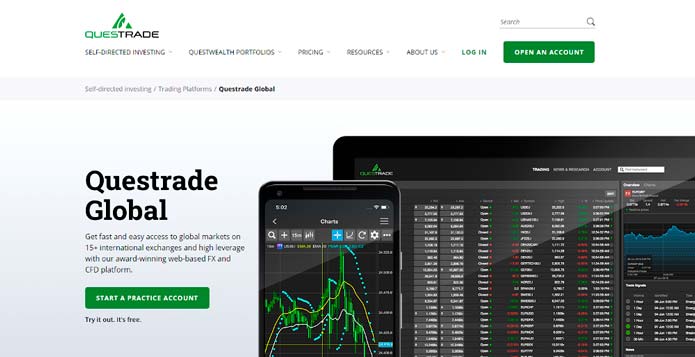 If you, like many traders, wanted to assume deeper control of your investments and be creative about trading, you might here (or end up with) Questrade. At the first glance, they are a very clean business with a lot of content to offer. But if you get to know them closer, you'll know just how ineffective and money-consuming they really are.
Questrade is one of the worse-received brokerage providers at the moment, and they are unlikely to get out of the mess they've created for themselves.
So, let's see what exactly Questrade promises people to get them aboard and then what sort of problems they have.
Trading with Questrade
Questrade has a fairly decent collection of products for trading, which includes things like shares, exchange-traded funds, options, currencies, bonds, metal commodities and several more asset types.
It may look like a good selection, but the entire existence of this line of products is irrelevant, because you'll get swindled whatever you try to trade here.
The pricing is very extensive and uneven, so you can see it for yourself on their webpage if you like. The bottom line of their entire pricing is that the commissions and spreads are seemingly low. The chances of slippage and other manipulation are high, so it's really unnecessary to look at their pricing compilation.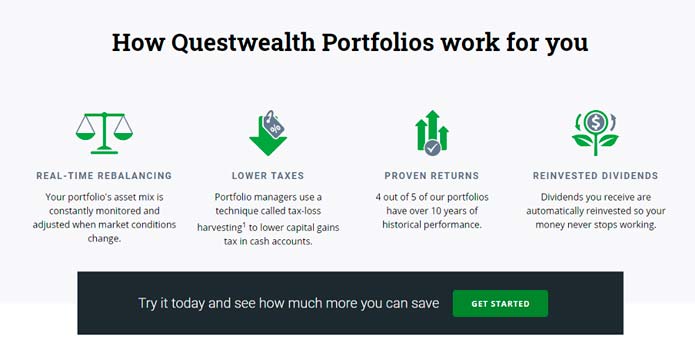 From the academic point of view, the prices are compiled in a unique way. For instance:
While trading stock, you don't pay per lot, but per share (as low as 1 cent, as they claim)
Exchange-traded funds (ETFs) are free to buy, but cost as low as 1 cent to sell
Forex and all sorts of CFDs don't require commission, but the spreads are maintained at the healthy minimum of 0.08 pips (allegedly)
So, you can see that trading here would be pretty interesting and also confusing, if not for the unjustified money loss.
Trading platforms
The entire trading is conducted through 4 trading platforms available here – neither of them is some sort of MetaTrader product, contrary to what you might expect.
They are all Questrade's own software, and you could actually claim that making so many of them with so little distinction was unnecessary, but that's what they came up with:
Questrade Trading. It's a web-based platform, where everything you'll need for a quick start is already organized into a neat interface. For beginners.
Questrade App. Pretty much the same thing, but for mobile.
Questrade IG Edge. A reportedly more advanced trading platform with more room for customization, strategy-creation and other actions that require the user's own initiative.
Questrade Global. An even simpler experience than the first two designed for quick access and fast execution.
There are no third-party platforms, like cTrader or MT4. The existing platforms, however, can be imbued with all the trading tools supported by Questrade – even news and market updates. They can be accessed on most of these platforms very quickly.
Unfortunately, the fact that you can only trade on these four means you'll have to entrust your money to their software, which does nothing to make your money more secure with them.
The Issues
So, what are the actual problems around Questrade? Why do people positively despise the broker? Well, the story is old as the hills. There are two major targets of complaints, and they are none too surprising.
Customer service is abysmal
It's not uncommon to lose your money to some fishy reason on Questrade, as many negative reviews indicate. It wouldn't be too terrible if you could contact the support and have them look into your problem. If the service is quick and effective, you wouldn't lose half as many brain cells as you would otherwise.
Whenever you want to contact the Questrade support, you'll have to wait for a very long time before they reply to you. And even then, the reply will likely not be anything helpful. Their favorite tactic is to redirect you to some other institution or other method of communicating with the staff.
Once you've done what you were told by them, the process will repeat itself – you'll have to wait for several hours once more and then not even get any answers worth notice.
Withdrawing mechanisms are very simple to tamper with for a broker. They can simply pocket the money and pretend like nothing happened. They will get away with it every time, unless you know exactly how to catch them.
Questrade is one of the fishy brokers who follow the same logic. There are three possibilities when it comes to withdrawing your money from here.
You can get it back, but it's relatively rare. Most of the time, the money won't come at all. Most people wait for some time (weeks or months) and then simply cancel their account. The third outcome is relatively rare, too, but it happens nonetheless. Sometimes your account can simply vanish without any refunds.
So, there are many ways to pocket your money and get away with them. None of them are particularly delicate, but they are all pretty effective.
In conclusion
If you considered trading with Questrade to see exactly how bad they are – don't. It's not just the money loss, the process of trying to get your funds back will exhaust you completely and waste too much of your time.
Questrade is not worth it, avoid them at all costs. If you're already part of their family, you'll likely never return any money you've deposited to your account there.