Author: Harry Napier
Shakepay – Crypto broker: reviews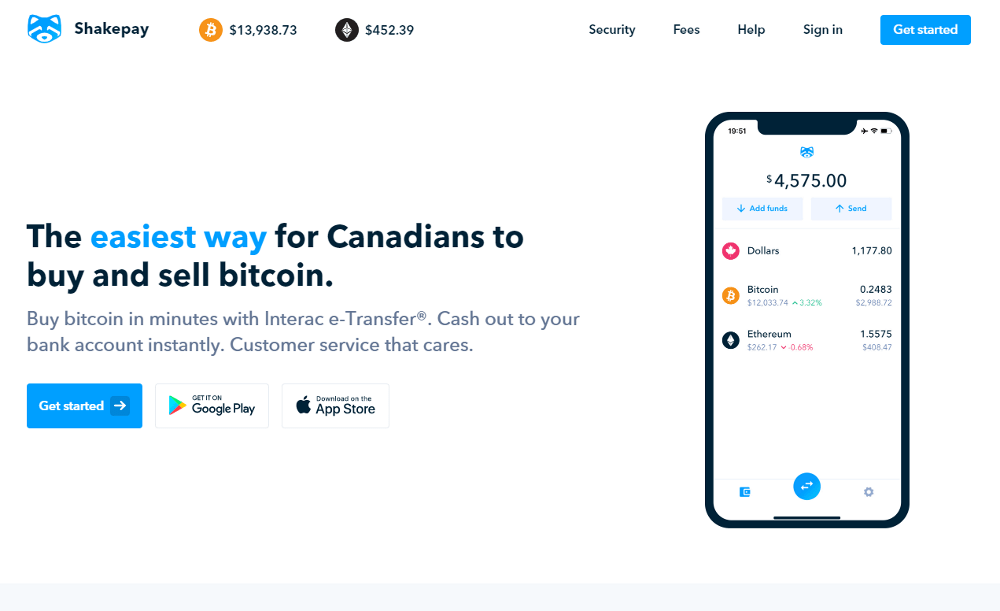 Shakepay is a Canadian crypto exchange, which especially emphasizes Bitcoin brokering. If you're looking for variety and abundance of features, this crypto is not for you. It has a basic assortment of currencies – only Bitcoin and Ethereum. Therefore, the major bulk of their effort went into platform designing and the improving of performance and transaction execution.
Shakepay promises a lot of very good features, but whether they live up to their word and actually provide great experience or not is debatable. You'll need to read a few user reviews to see the entire picture.
But first, let's see what Shakepay can provide exactly.
What is Shakepay?
As mentioned, Shakepay only allows trading in three currencies, either way:
Bitcoin
Ethereum
Canadian dollars
It's not necessarily a disadvantage that this platform doesn't have a million more types of currency and the same amount of trading methods. The simplistic nature of this exchange allows you to conduct your operations without much effort. After all, the prices can change in a matter of minutes.
Shakepay doubles down on this logic – not only does the broker allow you to trade fast, it also lets you set up your own account incredibly quick. The full process only takes a dozen minutes, or so they claim. Furthermore, they claim to have improved these aspects of trading as well:
Fee policy. Like many other exchanges, Shakepay doesn't charge commissions on buying and selling. It seems you'll only have to pay for depositing and withdrawing;
Support. Shakepay set up a 24/7 support, meant to resolve user issues. It remains to be seen exactly how consistent they are at responding;
Security. It may be a crucial aspect, but many exchanges use their 'superior security' as a pretext to take away your money. Shakepay can be one of them;
Transparency. Shakepay is said to be regulated by FINTRAC and AMD, national agencies. Do what you will with this information
It's not too much. However, if implemented effectively, these features can be the groundwork for a very comfortable exchange. Let's see if Shakepay implemented them well.
The rating
On different websites Shakepay has different median ratings. Generally, web version receives an average (3/5 on Trustpilot) to good (4.2/5 on producthunt.com). These, however, can't be taken as primary sources, because each platform only has a few dozen reviews on this platform.
However, the mobile version receives a little more respect (and a lot more feedback) from users. For instance, Appgrooves reports that users gave this app 4.4/5 on average. Let's primarily walk through these reviews.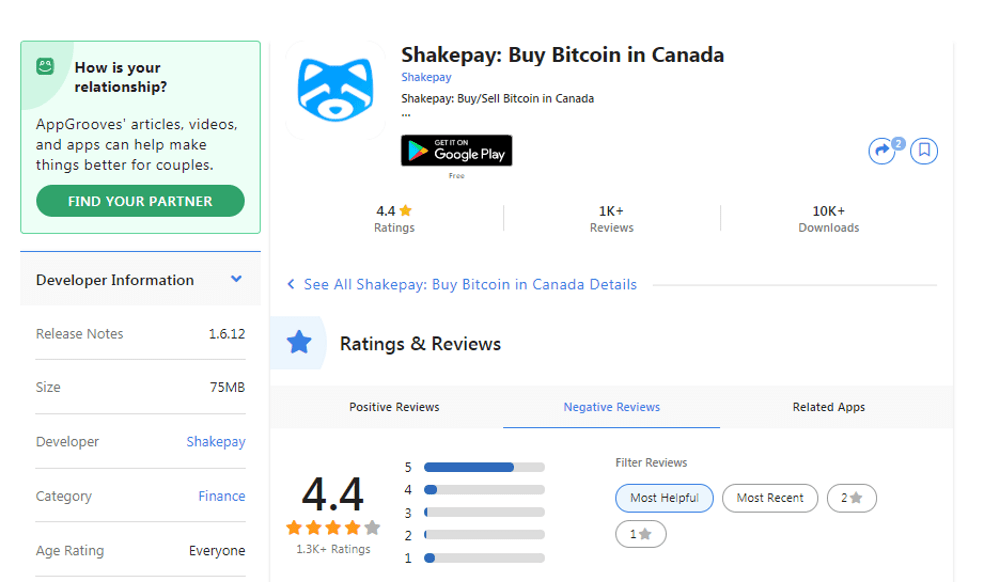 The advantages
It seems there are a lot more benefits of working with this platform/app than there are disadvantages. Here's a couple of the most common.
The speed is truly incredible. Transferring money, buying, and selling are all very fast processes on this exchange. By many, it's described as the easiest way to buy and sell Bitcoin (including Shakepay itself). Well, it's not too far from the truth.
As described by the less poetic reviewers, 'Shakepay is the only Canadian platform that lets you sell without hassle'. So, their promises of speedy execution and fast performance seem to be true. You could commend them twice.
The platform is great for Canadians. Everything from transfer methods to currency choice is suited for Canadians. Canadian dollars is the only non-crypto currency available on the website, for instance. Additionally, the platform offers a lot of Canada-specific ways to transfer money, including E-Transfer.
Furthermore, the coverage includes all Canadian provinces, which guarantees safe and steady connection, and, consequentially, fast execution and performance. Not to mention that you can actually come knocking on their door if they scam you (and they know it). It makes support very polite and favorable. And speaking of support…
Support is terrific. Service is quintessential for exchanges and brokers. After all, poor support means you won't get your money back if something ugly happens. And that's as good as scamming. But on Shakepay support tries to help you as soon as possible, your issue will take several hours at most, but some are resolved within minutes.
The disadvantages
You might think that Shakepay would finally be that one exchange to have no flaws, but it has a few very minor disadvantages and one major flaw. The minor problems can be ignored, they are mostly personal issues, but this major one has to be taken into account.
The verification process is pain. As in most exchanges, the length of verification can vary. It can be smooth and quick or very lengthy (up to 7 days). It's completely opposite to their claim that 'you can buy your first Bitcoin 10 minutes in'.
Regardless, it wouldn't be as tedious if they didn't demand verification for every minor step. Want to enable your E-Transfer? Verify the account. Want to withdraw money? They may ask you to verify some additional info. It's just tiresome.
In conclusion
Shakepay may be one of the best Canadian exchanges out there. It's very basic, and yet fairly quick and has great service. The entire platform is designed to serve Canadians, so it's a good change of pace, considering that most 'Canadian' exchanges simply have a few options to suit Canadian users.
But you shouldn't just keep your eyes closed and trust the exchange like a lamb. There are still flags that Shakepay can deceive you if you gave them all the cards or didn't read properly.