Author: Harry Napier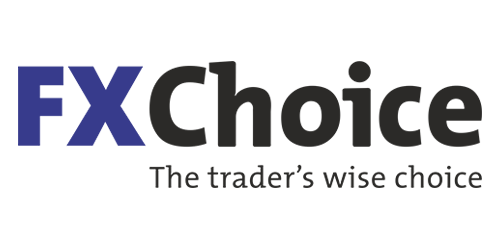 FX Choice Review: A Trustworthy Broker or Just Another Scam?
FX Choice is a brokerage company based in Belize. It has been founded 10 years ago and now has a decade of experience. It operates in many countries from around the globe. FX Choice can be accessed from Canada, the USA, Russia, England, India, and many other countries. What does this service have to offer and can you trust it? Find out in this FX Choice review.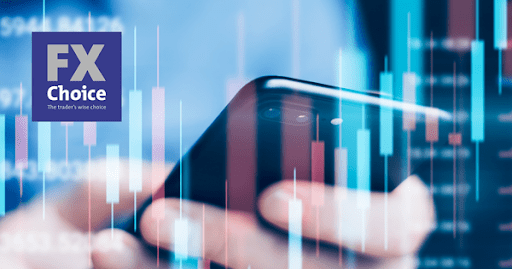 Is FX Choice Trustable?
If you look into the matter closely, FX Choice is regulated by the International Financial Services Commission. This is a regulatory authority based in Belize. According to its records, FX Choice has had no issues during its operating period.
However, this is not the only key point you need to pay attention to when checking whether you can trust a broker or not. Read on to find out more about the service.
What Do Traders Say About FX Choice?
The next point you need to pay attention to are the customer reviews. FX Choice has plenty of them all over the web. You can find them on trading forums, rating websites, and even specific trading websites like this one. So, what do people really think about the service?
For instance, there is a user with the nickname "kleeone" from the USA. He is an experienced trader and mentions that there were no issues when he made a deposit with a very big amount. Kleeone also recommends customer service because of their responsibility.

Another trader, now from Saudi Arabia, Mohammed, mentions that FX Choice is a legit broker that provides great terms. He used different trading strategies and everything went okay. Also, his deposits and withdrawals didn't have any issues.

What Platforms Does FX Choice Use?
FX Choice uses only MetaTrader software. Specifically, we are talking about the MT 4, 5 and its mobile and web versions. There can be no worries here because this software has been tested for many years and traders with different styles like it.
What we personally appreciate is the possibility to trade without being attached to a computer. You can trade part-time and got to a regular job, travel, continue your everyday life without significantly altering your daily schedule. Doesn't that sound nice?
What Assets Does FX Choice Provide?
Basically, here you will find the same stuff as with many other brokerage services:
Cryptocurrencies
Forex
Commodities
Indices
All these assets are thought to be quite profitable. Many different trading strategies can be applied in accordance with your needs. Try all of them out in a free demo account that simulates both classic and pro accounts!
FX Choice Website
The FX Choice login page is quite simple to navigate. The design is user-friendly and anyone would be capable of using it.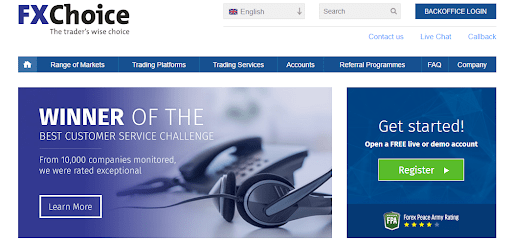 For unregistered users, the website consists of 7 sections:
Range of Markets
Trading Platforms
Trading Services
Accounts
Referral Programs
FAQ
Company
Each has some unique and interesting information to display. The "Company" section provides news about FX Choice and user reviews. The "FAQ" section will answer any question you have. There is even a complete knowledge base that contains a lot of useful information on the usage of the service.
Minimum Deposit and Payment Methods
First of all, the minimum deposit with FX Choice is $100 or an equivalent of this amount in other currencies. There are many payment methods that can be used for both deposits and withdrawals: wire transfers, cryptocurrencies, e-wallets like Perfect Money, and others.
Please note that deposits have commissions from 0.5% up to 10% depending on the chosen methods. The same goes for withdrawals at FX Choice, only those can have a wider fees range. For instance, in wire transfers, the minimum fee is 150 Euro. Therefore, wire transfers are a very bad choice for most traders. Detailed information about commissions can be found here.
How to Get a Bonus With FX Choice?
FX Choice has some promotions, which make the trading process slightly easier. If you top up your account in cryptocurrency, you get 15% on top of that amount. It can be withdrawn or used for trading. That is a good addition for people who keep part of their money in cryptocurrency.
There is also a referral program that will help you earn some additional money for each person you invite. The only condition is that the person must top up their account for at least $100. You will get $25 for every $100 in a referred user's deposit. The maximum you can get for each person is $250. So, inviting at least 10 persons who would invest at least the bare minimum would bring you $250. If they invested more, the possibilities are endless.
Customer Support at FX Choice
One of the greatest advantages we noticed is the reliable customer support service. If you have any issues, you can open a ticket. A support specialist will contact you in no time and help to solve any problem that might have occurred. However, most issues can be solved by reading the FAQ, where many problems have already been discussed.
The customer support service is available in these languages:
English
Russian
Spanish
Thai
Chinese
Persian
We think this is more than enough for high-quality customer support.
The Verdict
Is FX Choice a scam? According to our experience and the reviews of many other traders, this is a legit broker that provides great service. People really like the low spreads, commissions, simplicity of the software, and customer support.
We would like to add that the referral program is a quite interesting way of earning something for your starting trading capital if you have several friends interested in trading.
What do you think of FX Choice? Please let us know about your experience with this broker!